Carnival is a butterfly of winter whose last real flight of Mardi Gras forever ends his glory. Another season is the season of another butterfly, and the tattered, scattered, fragments of rainbow wings are in turn the record of his day.

The North Wing Mardi Gras Blogtrain Has Now Left The Station

Please Keep in Mind That All Stations May Not Be Ready Due To
Being All Around The World. If You Come Across a station And It
Is Not Ready Be Sure To Come Back As You Dont Know What You Are Missing
Xtenziv Images<< YOU ARE HERE!!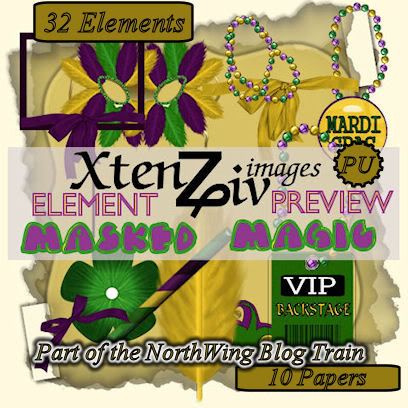 DOWNLOAD HERE

Be Sure To Stop By All The Sites To See These Wonderful Creations
The North Wing
Creative Crazy Scraps
Tygers Tidbits
Scraps By Dmg
Always Creations
Cuddz Reflections
BFF Scraps